Mornings in the Metro are frigid lately as the country experiences heavy downpours from weather disturbances. It's high time for cuddles but we need to face the hustle and bustle of the city to start the day with better opportunities. What better way to start the day than with a hearty meal?
Get up and warm your mornings with these breakfast joints in Araneta City:
Courtyard, Gateway Mall. Opens 7:00 AM
Experience a unique dining experience to start your day right.
Café Adriatico offers up an extensive menu that is sure to tantalize your taste buds. From delicious breakfast sandwiches to breakfast platters and omelets. They have something for everyone.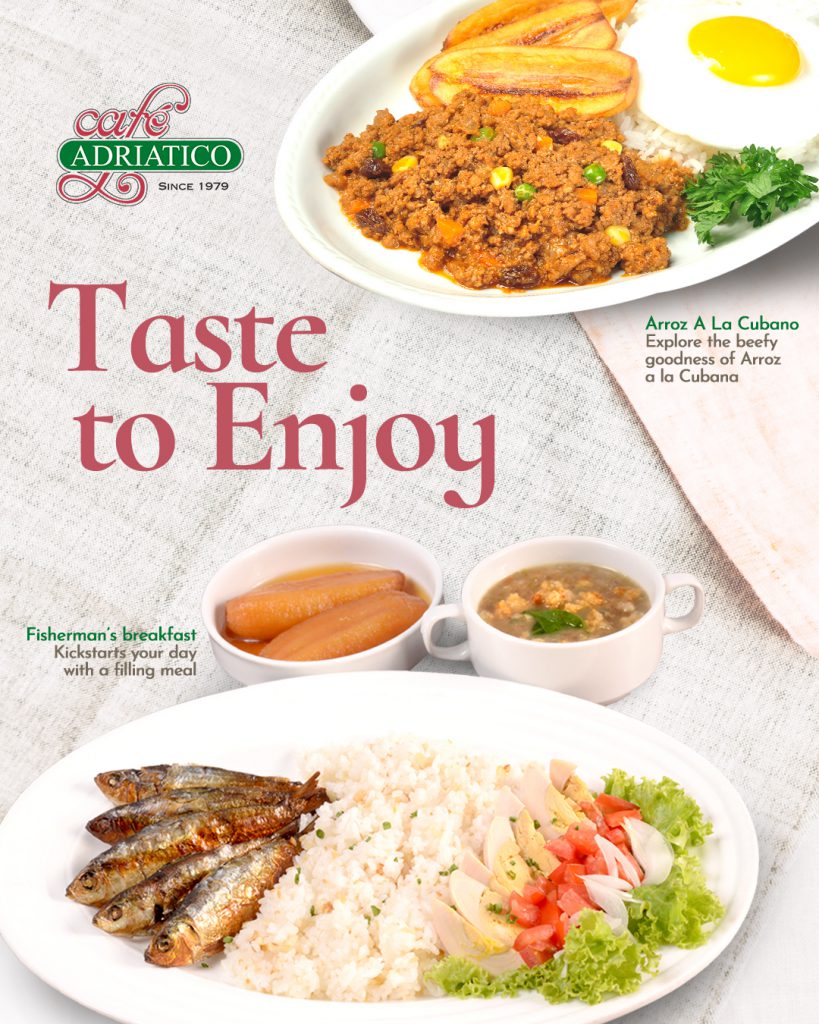 They also offer freshly brewed coffee and tea, so you can start your day off right with a hot beverage of your choice.
Visit Café Adriatico at the Ground Floor, Courtyard, Gateway Mall 7 AM to 8 PM.
Courtyard, Gateway Mall. Opens 7:00 AM
Enjoy round-the-clock breakfast mix plates!
Banapple serves classic breakfast favorites any time of the day. Start your day with pancakes, sausage, and fries in one seating or pair the pancake and sausages with parsley creamed eggs. The choice is yours to make.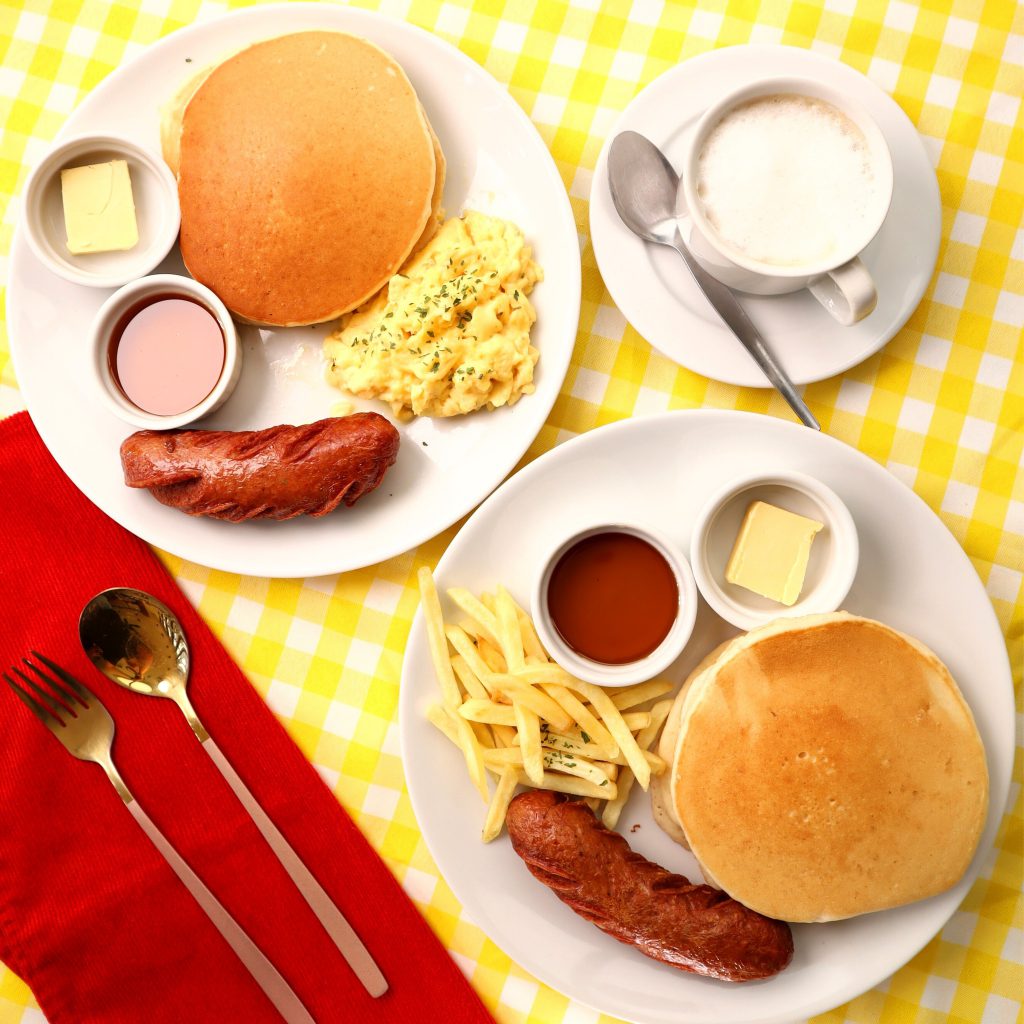 You can have these meals thru dine-in & carry-out. For online orders, visit https://bit.ly/banappleph or message Banapple at http://m.me/banapple.
Conti's Bakeshop & Restaurant
Gateway Tower. Opens 8:00 AM
Have a delightful morning with Conti's Breakfast Medleys.
Located at the G/F Gateway Tower along Gen. Malvar St., Conti's Bakeshop & Restaurant serves delicious breakfast medleys for morning persons! Enjoy the aroma and taste of their signature Chef's special plate, Mom's Garlic Longganisa, Perfect Filipino Plate, Real Meaty Plate and many more to complete your morning grub.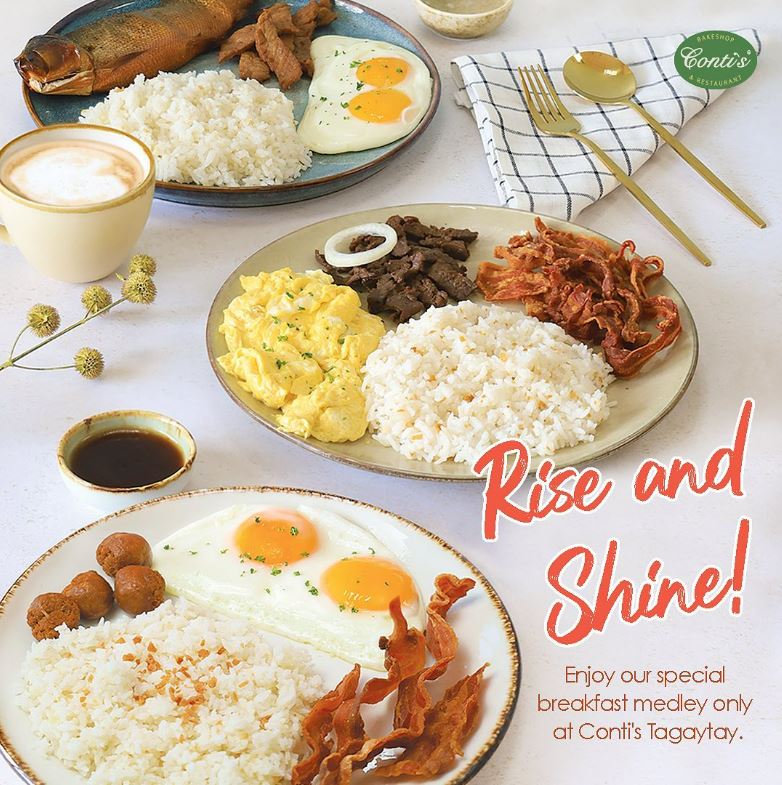 One can also enjoy these tempting plates all throughout the day from 8 AM to 9 PM.
New Gateway Mall 2. Opens 10:00 AM
Start your day with an appetizing twist from Manam.
Located at the Coliseum Plaza at The New Gateway Mall 2, Manam serves a sunny selection of classic and twist versions of silogs that are perfect any time of the day.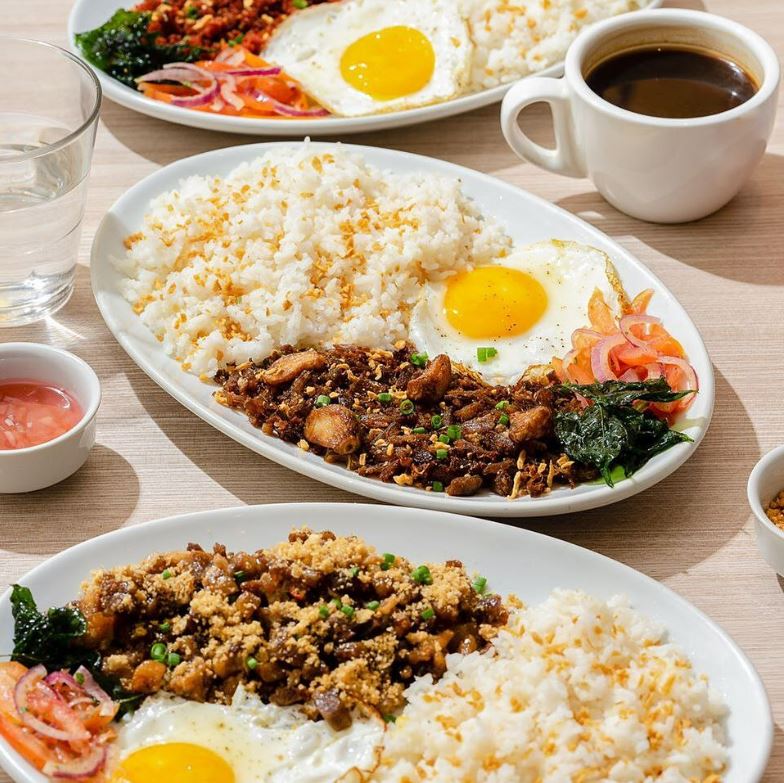 One can also dip with Manam's sweet Pinoy paborito, Chocolate and Ube Champorado in different way. Both are available for all-day dine-in, takeaway, and delivery on manam.momentfood.com, GrabFood, Pick-A-Roo, and foodpanda.
Manam serves breakfast at 10 am onwards.
Farmers Plaza. Opens 7:30 AM
Rise and shine to a delicious meal you can't miss!
The Tropical Hut restaurant in Farmers Plaza operates as early as 7:30 am to serve commuters a sumptuous breakfast. Tropical Hut breakfast meals are served with a free pour of pineapple juice and brewed coffee.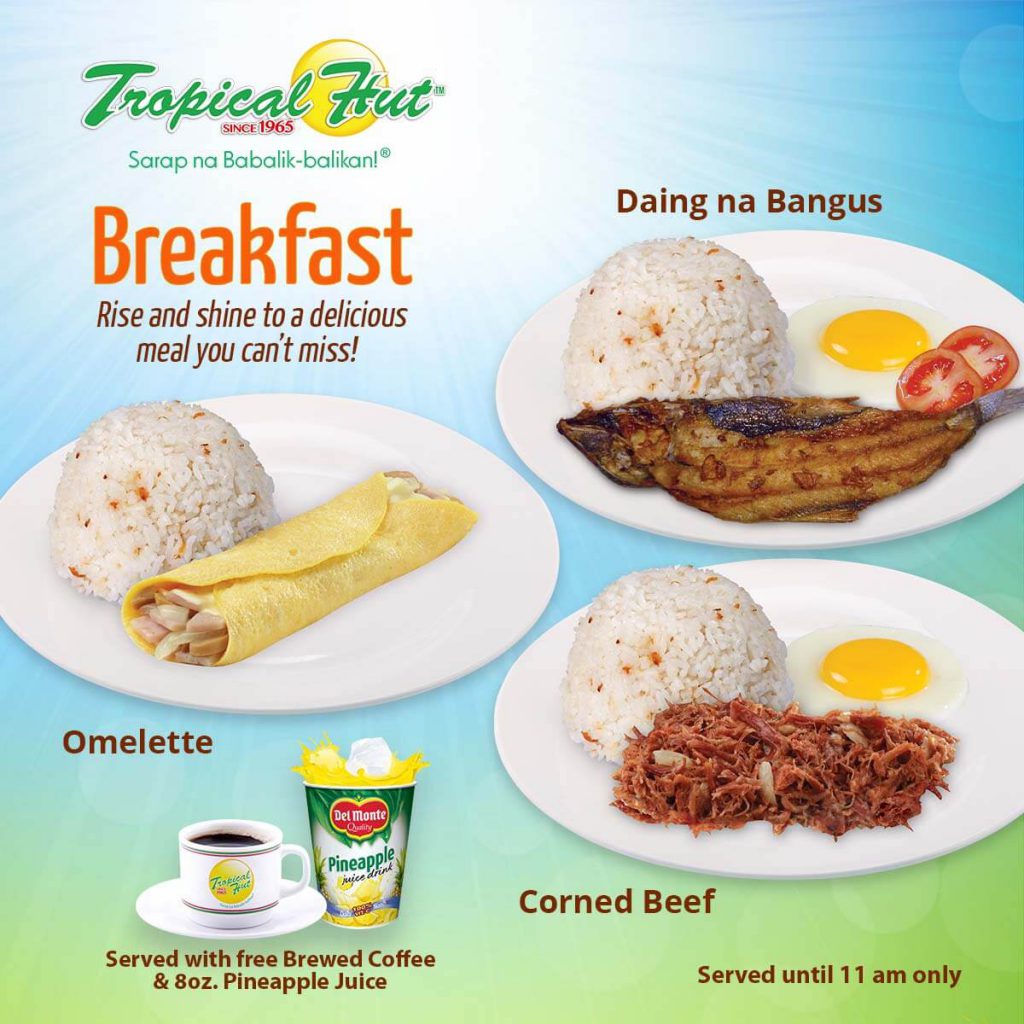 Choose from sumptuous rice meals with Daing na Bangus, Beef Tapa, Omelet, Longganisa and corned beef, or go with Pancakes as well as ham and bread.
Cyberpark Tower 1. Opens 9:00 AM
Are you craving authentic Ilocano breakfast meals? #KaNation, Empanada Nation got you covered.
Pump up your day with a bite of Batac Empanada and a hot soup to warm your gut. You can also go for a delish Vigan Longanisa served with salted egg and ensalada. Or you can start the day with the Iloco Bangusilog and Tapsilog.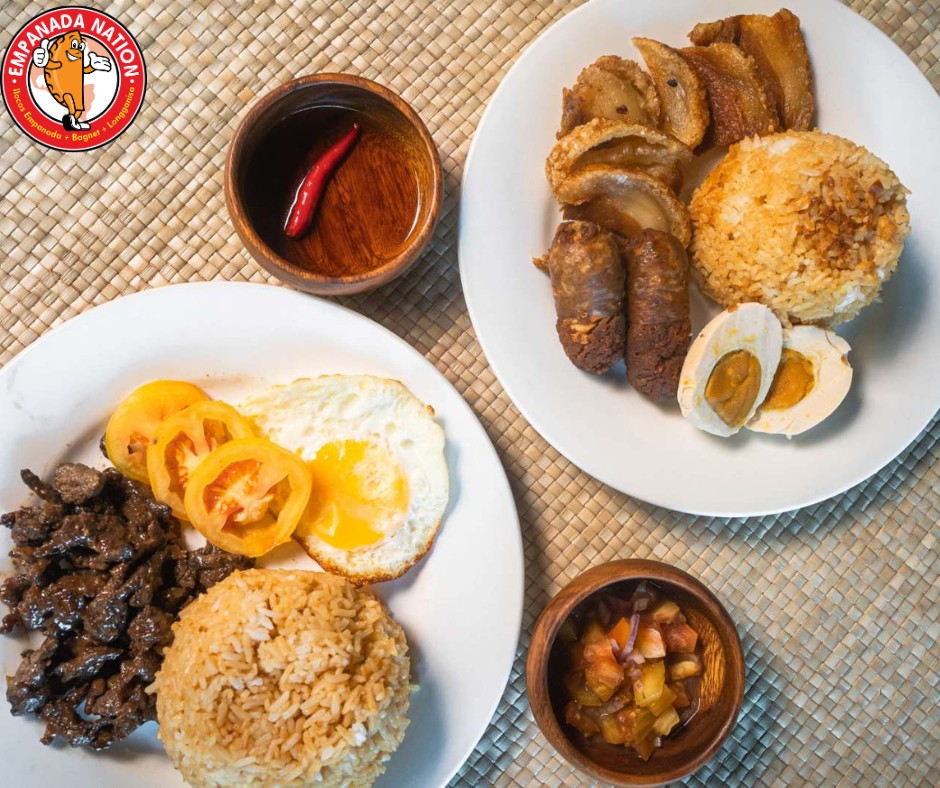 Empanada Nation is located at UG, Cyberpark Tower 1, and is open from 9 AM to 8 PM.
Shopwise Arcade. Opens 10:00 AM
Stay warm and toasty with all-day breakfast meals from Army Navy.
What will it be today? Head to Army Navy across the Green Gate of the Smart Araneta Coliseum and get a bite of a scrumptious breakfast to cure the blues!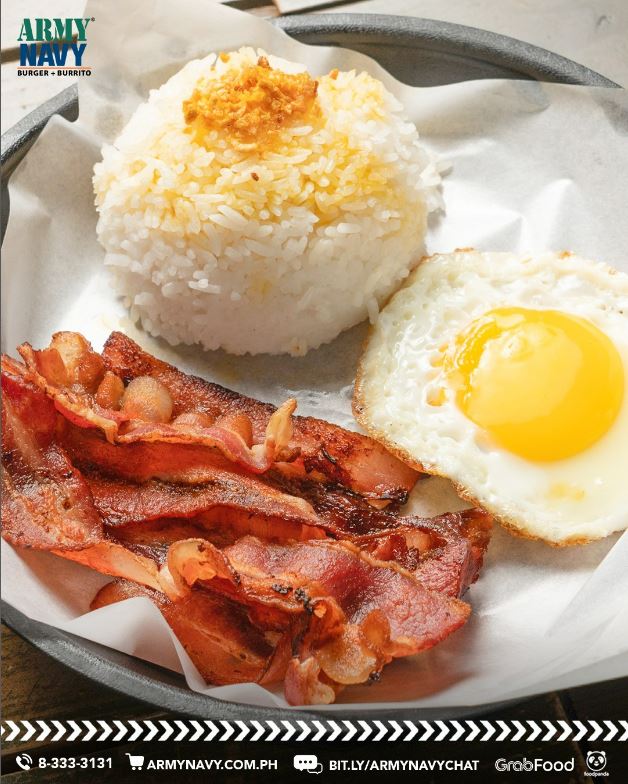 Choose from the all-time favorite Adobo Flakes, Tapa meal, perfect strips of bacon, garlicky longganisa, and sweet-savory Tocino, all served with garlic rice and crunchy sunny-side up! One can also choose a morning with flippin' pancakes.
Order now:​​
📞 8-333-3131​
🌐 armynavy.com.ph​
🛵 GrabFood, FoodPanda, Pick-A-Roo​
Army Navy is making fearless days from 10 AM to 8 PM.
Shopwise Arcade. Open 24 hours
Experience creamy greatness in every silog with Baksilog Express!
Beat the morning rush with the flavorsome Baksilog Express. Dine in or eat on the go with a cupful of your favorite silog meals to start your day.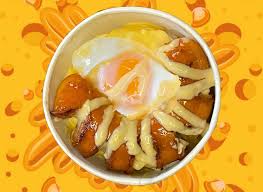 Baksilog Express is located across New Frontier Theater and is open 24 hours.
Novotel Manila Araneta City. Opens 6:30 AM
A kaleidoscope of colors and a vibrant setting await you for breakfast at the Food Exchange Manila by Novotel Manila Araneta City.
Wake up to a serve of happiness for breakfast! With Food Exchange Manila's wide array of breakfast selections, bond with family or friends over a hearty meal inclusive of coffee, iced tea, soft drinks, and chilled juices.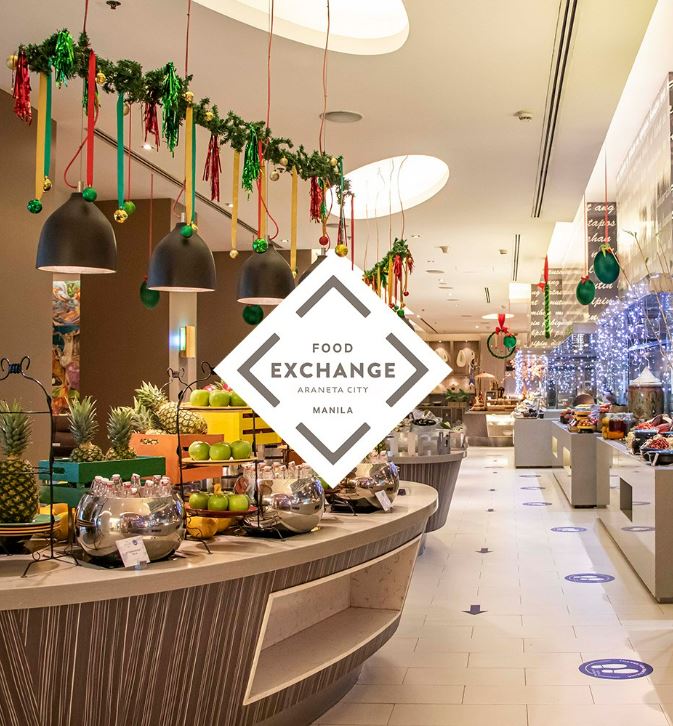 For check-in guests, kids 15 years old and below EAT FOR FREE when accompanied by 1 paying adult per kid. For walk-in guests, kids 12 years old and below EAT FOR FREE when accompanied by 1 paying adult per kid.
Enjoy the unlimited breakfast from 6:30 AM to 10 AM.
Whether your shift ends in the morning or your day is just starting, there are a wide selection of breakfast meals in Araneta City to fuel you up. Be sure not to skip the most important meal of the day, breakfast.